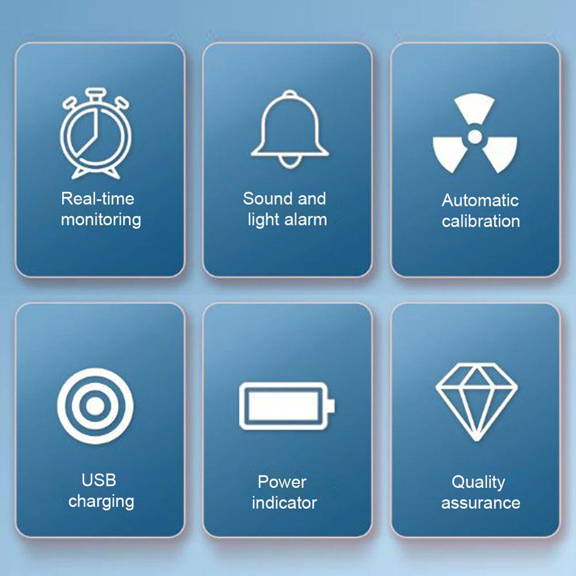 6 in 1 Air Quality Detector
This carbon dioxide detector can monitor 6 kinds of gases at one time such as PM2.5, PM10, HCHO, TVOC, CO, and CO2. With this carbon monoxide alarm, you don't need to worry about contamination since the air quality is clearly shown on a large display screen. The more it can save and protect your life!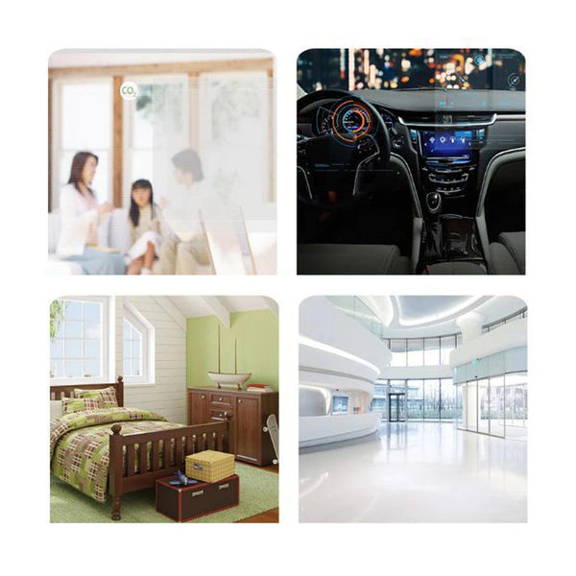 Provides Real-time and Accurate Monitoring
This co2 detector is incorporated with 3 built-in sensors; infrared detection technology, laser detection technology, and electrochemical detection technology that continuously monitors levels of CO. You can comfortably go on with your day as this co detector provides real-time alert and reliable data once abnormalities are detected.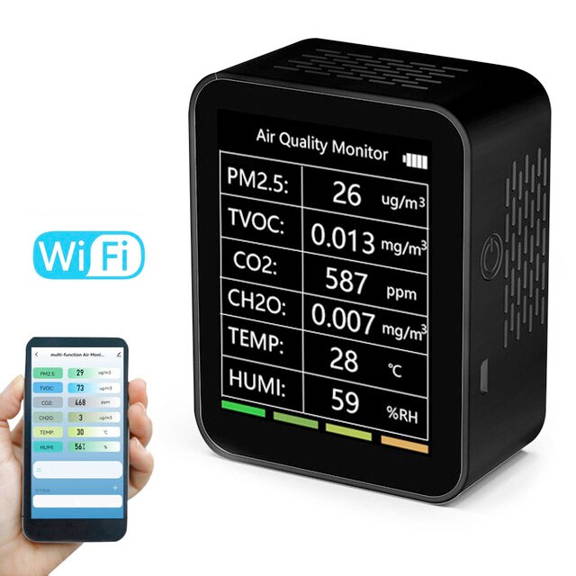 This smoke and carbon monoxide detector is small and portable and can be used in your home, office, desktop, hotel, and other places. This is very easy to use as this comes with 4 color alarms that signal whether the air quality is good, slight, moderate, or serious.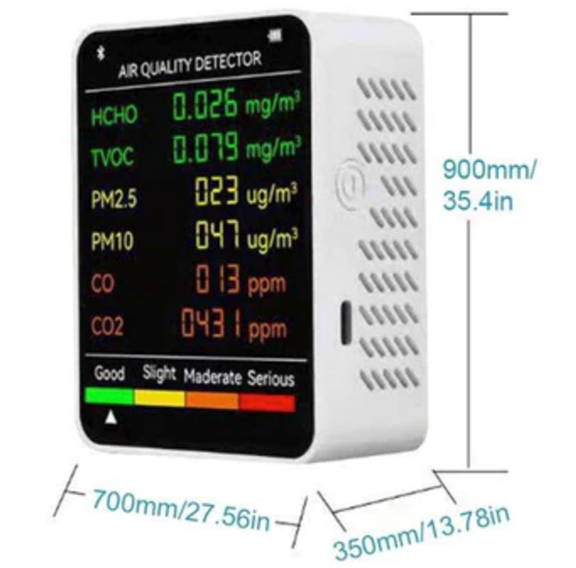 This monitor is small in size and you can use it on your desk without taking up too much desk space, also easy for you to carry.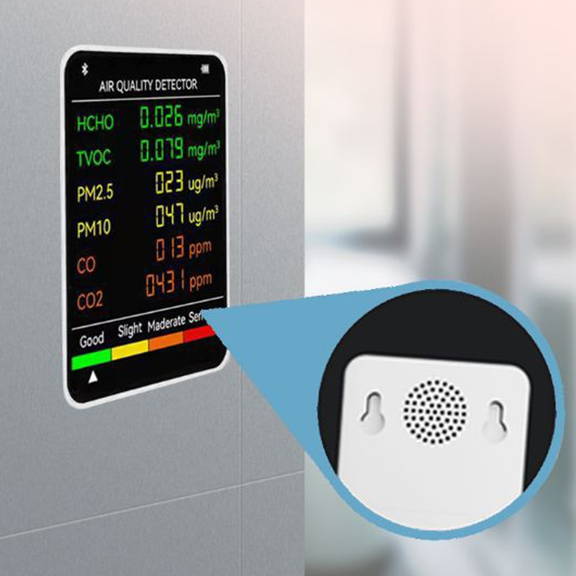 Built-in Multiple Sensors
This air quality monitor using infrared detection technology, laser detection technology and electrochemical detection technology to show you the accurate data.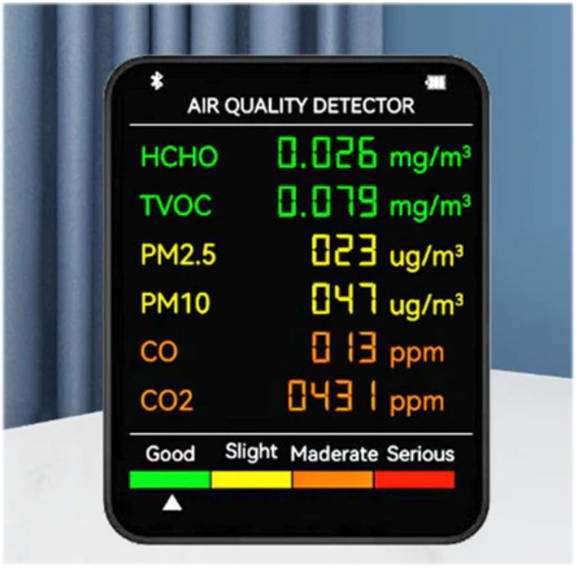 Temperature Units Conversion
The temperature units can be switch between degrees Celsius and Fahrenheit and when the monitoring data exceeds the standard, sound will be emitted to indicate.
See What Others Are Saying
Learn more from verified users below.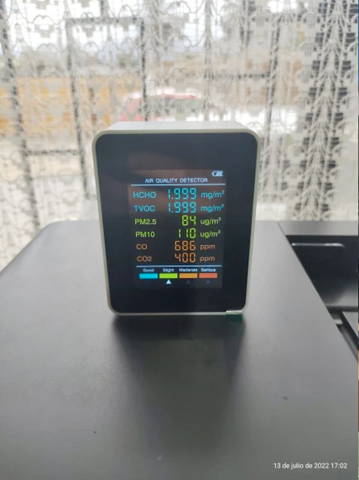 "This new type multifunctional air quality detector is amazing! It can show you 6 different detecting results at the same time, which is really helpful. I've used other air quality detectors before, but this one is by far the best. It's easy to use and really accurate. I would definitely recommend it to anyone looking for a good air quality detector."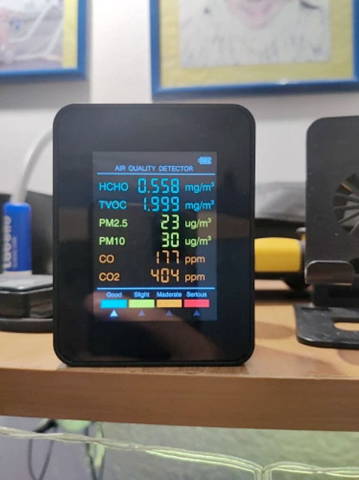 "I never realized how important it was to have a carbon monoxide alarm in my home until I heard about all of the dangers that come with gas poisoning. This alarm has been a life-saver for my family and I. We are immediately alerted if there are low or dangerous levels of carbon monoxide in our home, which has helped us avoid any gas poisoning. I would highly recommend this alarm to anyone, it could save your life!"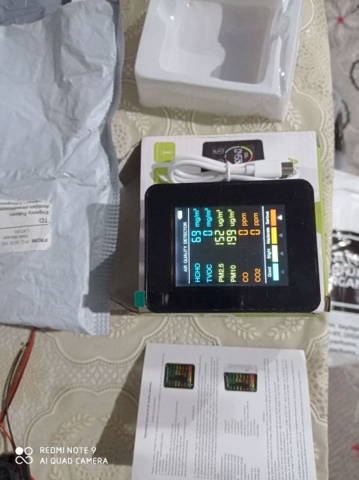 "This carbon monoxide alarm is a great way to keep your family and home safe. The large display screen makes it easy to see the detecting data, and the alarm is loud enough to be heard throughout the house. We've had it for a few months now and it has already saved us from a potentially dangerous situation."

Try the Carbon Monoxide Detector completely risk free!
We have an iron-clad risk free for 30 Days Money-back Guarantee that begins only when you receive the product! If you do not fall in love with our product, just send it back & contact our customer support for refund. No hassle question!
Frequently Asked Questions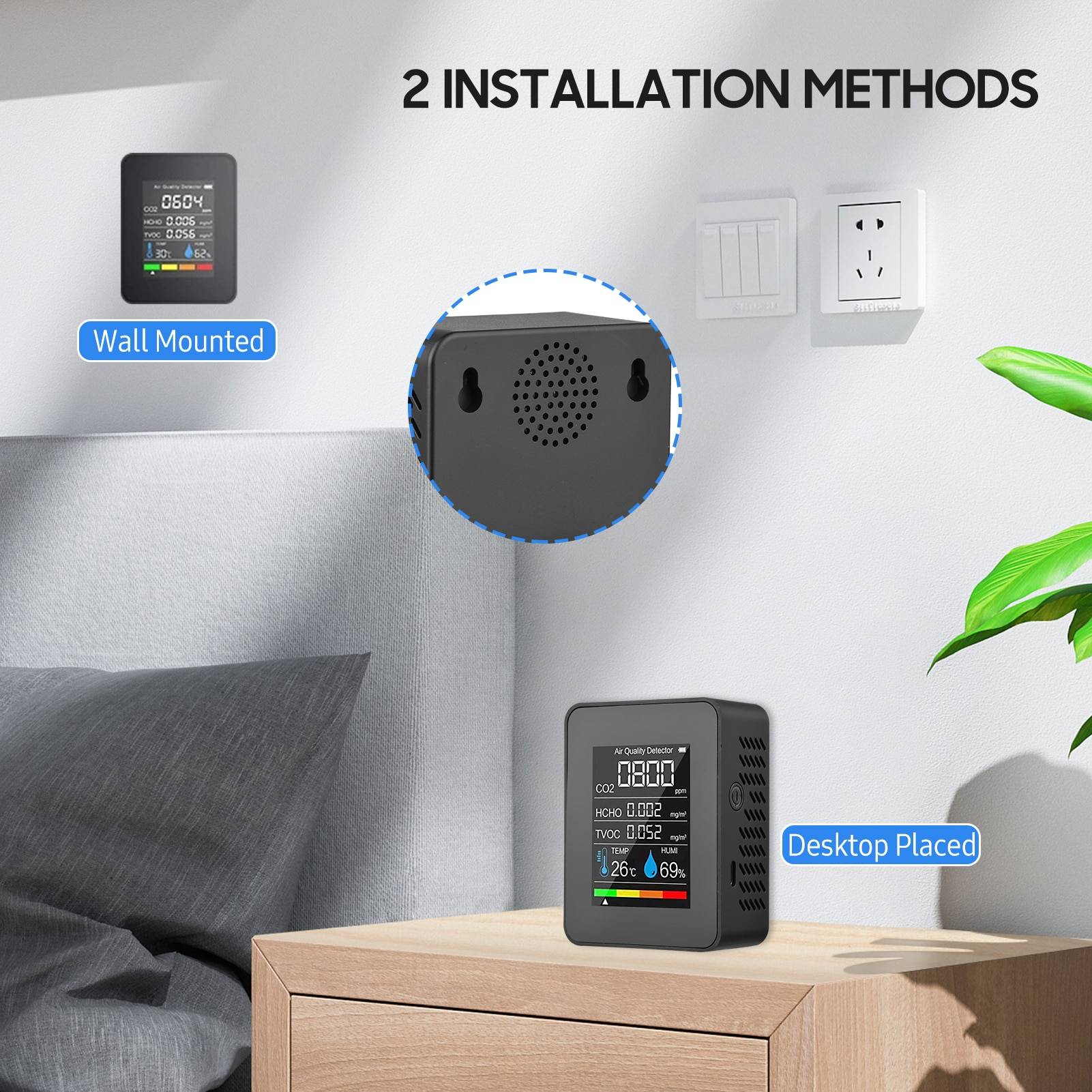 It has 2 Installation method:
1. Wall Mounted
2. Desktop Placed
What is the 6 in 1 Carbon Monoxide Detector?
The 6 in 1 Carbon Monoxide Detector is a device that can detect the presence of carbon monoxide in the air and alert you to its presence. It can also measure the levels of carbon monoxide in the air and provide you with an accurate reading. Additionally, the 6 in 1 Carbon Monoxide Detector can also detect other gases such as methane and propane.

What are the benefits of using a Carbon Monoxide Detector?
There are many benefits of using a carbon monoxide detector. Some of these benefits include:
1. It can detect carbon monoxide levels in the home and alert you if they get too high.
2. It can also detect other gases such as natural gas, propane, and methane, which can be dangerous if leaked.
3. It is battery operated, so it will continue to work even if there is a power outage.
How does the this Carbon Monoxide Detector work?
This Carbon Monoxide Detector is a device that is used to detect the presence of carbon monoxide in the air. The device consists of a sensor that is sensitive to the presence of carbon monoxide, and an alarm that is triggered when the sensor detects the presence of carbon monoxide. The device is designed to be placed in an area where carbon monoxide might be present, such as a home or office.
When will I receive my order?
All orders are expertly packaged, prepared, and shipped within one to two days of ordering. We offer Free Shipping Worldwide and the typical delivery timeframe is 7-17 days due to peak season. Depending on your location, you may receive items later or earlier. All orders are shipped with the tracking number so you can track them every step of the way! Occasionally, packages may face delays beyond our control, such as customs or postal delays so please kindly understand.