Let The Dent Puller Do The Job For You
Sometimes we find a small dent in the car, but it is too expensive to remove the dent in the 4S shop or worry about the original paint being distressed. So now you can save the money and time while getting these tabs to recover your car's dent like it's never been damaged before.
The Dent Puller™ is ideal for car dent removal, hail damage dings removal. This tool is suitable for automobiles, refrigerators, washing machines, and other surface dents. (Tip: This tool is not suitable for corners or creases)





Remove Dents in 15 Minutes!
It is easy to control the dent puller, and most of the dent can be removed in 15mins. Order one Dent Puller ™ and remove any dent at any time.
The golden Dent Puller™ is made of tempered high-carbon stainless steel and standard stainless steel. The bottom of the tooth lifter is made of silicone which is very soft and will not harm the oil painting, and can be torn down easily.
Compared to the old version paintless dent repair kit, the new Dent Puller ™ can adjust more than 1 cm height and more 3.8cm width. The package comes with glue tabs in various thicknesses and diameters, allowing you to pull the dent more efficiently. In addition, the unique arched bridge design eliminates the chance for additional damage.
Learn more from verified users below.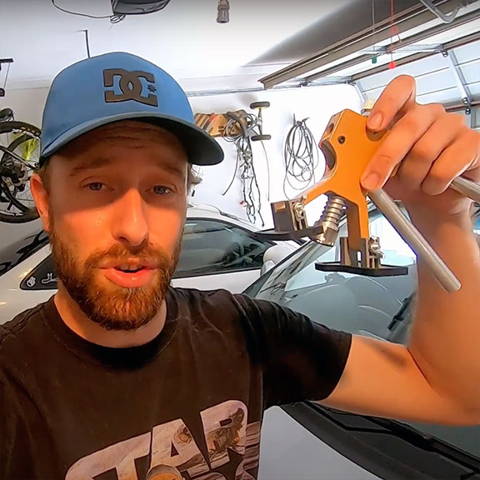 The kit works REALLY well!
"I bought a car with hail damage and figured I'd invest the $40 into this puller kit. What the heck, if it's junk I wouldn't be out much. Wow, am I ever surprised. The kit works REALLY well. The puller is high quality and very solid. It provides a really solid pull and is very easy to use. It also has nice padding on the feet so you don't scratch the paint. After the pull, the glue comes off soooo easily with just a little spray of denatured alcohol. I use the supplied spray bottle, spray 1 squirt, then use my thumb to peel the "puck" off."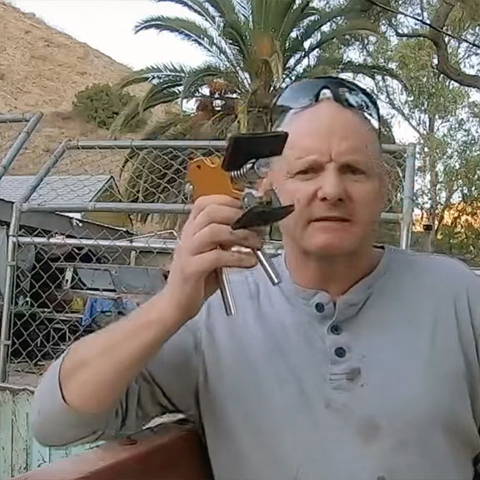 "I bought this puller to try and get some point type dents out of the car doors. I end up using the tool with the black glue which seemed stronger than the clear. It took several pulls but I was able to see a noticeable positive difference and the dent is far smaller. I did notice after fulling a larger dent around the door handle that the puller pads might have distorted the panel as well so this might be considered when using the larger attachments. But after pulling for few times, I can see the dents basically are removed so it works."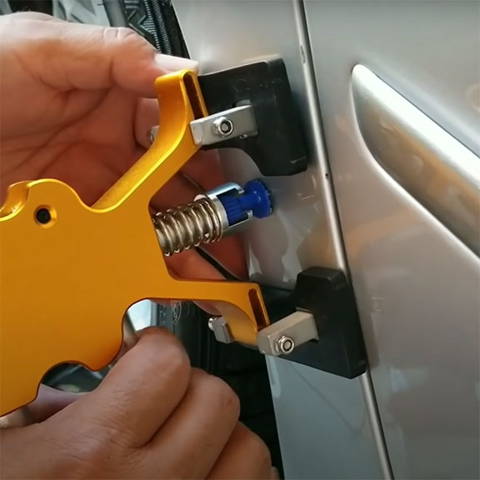 "I had not a scratch on my 2018 Subaru Crosstrek until last month when I got a small door ding from a red car in a parking lot. Grrr. I looked a several similar dent pullers, and chose this one. This is better than the slotted adjustment I see on some of the others as it is stronger and less likely to break.
The results? Excellent! It took a couple of tries, but the ding is virtually gone. You have to get down on your hands and knees and study the door with a straight edge to perceive any remnants of the ding .
I recommend this puller."

Try the Dent Puller completely risk free!
We have an iron-clad risk free for 30 Days Money-back Guarantee that begins only when you receive the product! If you do not fall in love with our product, simple contact our customer support for refund. No hastle question!
Frequently Asked Questions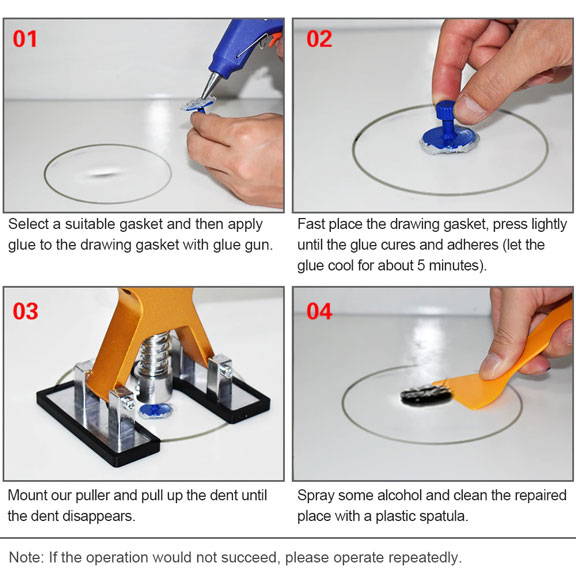 Remarks: After dent removal, you can use alcohol to clean the extra glue on the car and the puller sets.
Will it damage the car paint?
A: No. The puller glue tabs are made of plastic, not metal, and it will prevent car paint damaged. But as always, be careful about what you are doing to avoid accidental scratches. Take time in the process and research and read the instructions before starting.
Can you reuse the small plastic pull pieces, or are they only good for one dent?
A: Yes, They are reusable. All that is needed is to clean off the glue before reuse.
Will this product get out small (pea size) door dings out of my car?
A: Yes, our Dent Puller™ kit can get out small door dings. You should better try more times and use hot melt glue gun and glue sticks.
Will this kit work for very small dents caused by hail damage?
A: Yes, our dent puller kit works effectively on small dents like hail-damaged dents.
When will I receive my order?
A: All orders are expertly packaged, prepared, and shipped within one business day of ordering. We offer Free Shipping Worldwide and the typical delivery timeframe is 7-14 days. Depending on your location, you may receive items later or earlier. All orders are shipped with the tracking number so you can track them every step of the way! Occasionally, packages may face delays beyond our control, such as customs or postal delays so please kindly understand.