---

HOW IT WORKS
Flux-cored Aluminum Electrode
Specification: 1.6mm thick, each 50 cm/ 19.7" long


Why Welders, Mechanics, & Household Handymen are calling this Soldering Rods "The Strongest, Fastest, and Easiest Aluminum Fabrication or Parts Repair?" – No Expensive Equipment Required.
Does the Impossible
It makes a good joint with slight penetration to base metal that is stronger than mild steel. Join thick or thin parts with a 45,000 lb tensile strength.
Extreme Performance
By Design. Solution Welding Rods are engineered to easily flow under a very low working temperature to ensure fast application to your project with minimal distortion.
From Amateur To Pro
Regardless of your prior experience, anyone can weld Aluminum without the need for expensive equipment like welding machines. All you need is a simple propane torch and some easy welding rods.
How to Use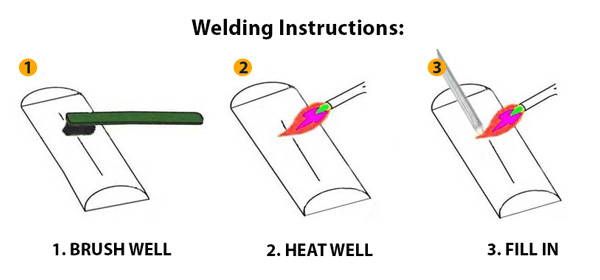 Step 1 - Clean the surface of the base metal thoroughly by brushing with stainless steel brush until it becomes shiny.
Step 2 - Pre-heat the area to be welded of the base metal evenly until it reaches the melting temperature at above 780°F/ 420°C
Step 3 - Rub the soldering rob against the heated area until the rod starts flowing.
Note: Do not heat the soldering wire DIRECTLY as it will crumb, and the soldering rob will be easily broken even if it's melt. Melting the rod directly will turn into crumby welds.
Frequently Asked Questions
All orders are expertly packaged, prepared and shipped within one to two business days of ordering. We offer Free Shipping Worldwide. The typical delivery timeframe is 7-17 days. Depending on your location, you may receive items later or earlier. All orders are shipped with tracking number so you can track them every step of the way! Occasionally, packages may face delays beyond our control, such as customs or postal delays so please kindly understand.
Please note for the orders placed between 31st Jan and 4th Feb, the estimated delivery time is 7-21 business days due to high volume of orders this month. If you have any questions, please feel free to contact our customer support team, and they are standing by to answer your questions.
It's easy to check the status of your order! First, visit online Track My Order page and enter your order number and email to check your order status.
We always put our customers first and do our best to resolve any issues that our customers may experience with their online orders. Any products you return must be in the same condition you received them, in the original packaging and must be within 30 calendar days of the delivery date. For more assistance, you can check more from our refund policy page or you can send us an email. Our customer support representative will be more than happy to help you out.
It can be applied at low temperatures like some torch for water copper. You need perfect clean up the surfaces on copper and aluminum. Use low torch heat copper and aluminum at least 30s. When the copper or aluminum turns bright, you can start to apply the soldering rods. If the temperature is high enough, it will mesh down and super fast/easy to fill. Make should you fill all around the connection point. It has flux in the center core, so you don't have to apply and another flux. Please be reminded that it's crucial to perfectly clean the surface before the application.
This Low-temperature Aluminum flux-cored soldering rods can weld almost all white metals, including Aluminum, aluminum alloy, aluminum-magnesium alloy, and dissimilar welding between the above metals. It can used even for white metals that have been severely corroded or polluted by oil.