---
"It cleaned like magic! No surface damage to the aluminium or brass and the varnish and dirt melted away in hard to reach places. Tried it on a valve cover and took the paint off nicely. Should have bought one years ago." - Dave Z.,USA
The Ultimate Tool for your DIY Workshop
This Sandblaster is designed to outperform with a gravity-fed reservoir to ensure more consistent work. In addition, the adjustable control valve allows you to the sand flow precisely. This tool is powerful enough to tackle any DIY job, and you can't imagine how this tool can ease your life!

  Remove Years of Stains, Dirt, and Rust

  Perfect for Glass Etching, Paint Stripping, Rust, Moss, and Other Surface

  Portable, Versatile & Easy-to-use



Versatile & Easy-to-use
The Sand Blaster Gun supports the connection with different media, including steel grit, silicon carbide and more. You can use it to clean, restore, and prevent corrosion on multiple surfaces, also for etching glass and carving stone.
By following the instruction, you just need to connect the
air compressor
, followed by
loading the abrasive
or other media so you can achieve the result that you desire
Portable and Lightweight
This Sandblaster Gun is an ideal hand-carry tool so that you can work on your DIY task anywhere and achieve the fine surface desired!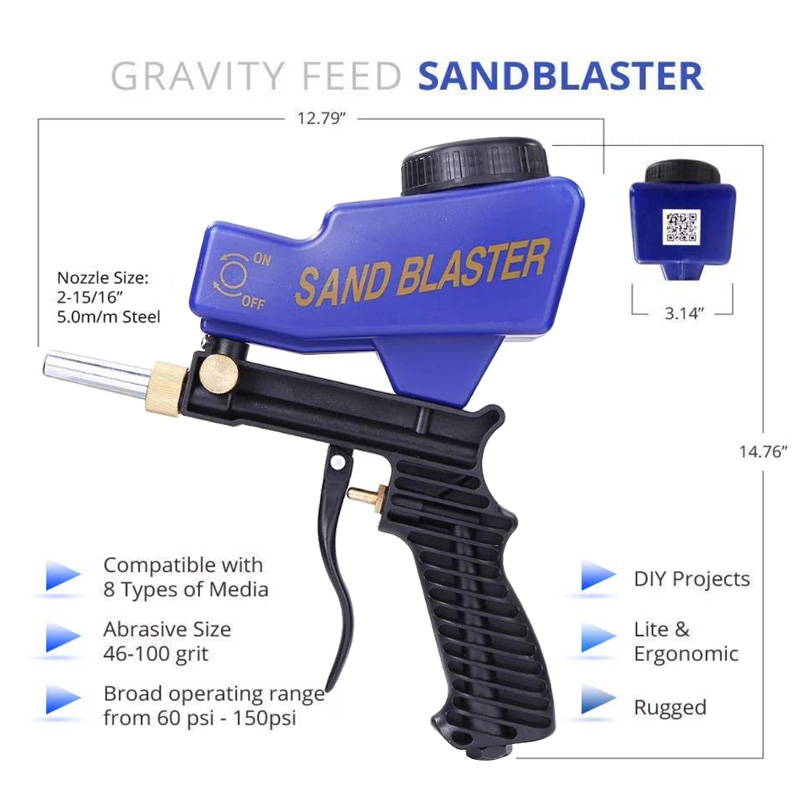 Specifications
The high-pressure gun that impacts the intended surface with precision
• Comes with complete sandblaster air tools
• Nozzle size: 2-15 /16L x 7 /  32-inch DIA
• Nozzle diameter: 2.6mm / 0.10 inch
• Sand capacity: 600cc (18 oz)
• Air flow: 100 PSI / 18 CFM
• Air consumption: 7 SCFM
• DIY supplies: metalworking
• Ideal working pressure: 90 PSI
Frequently Asked Questions
All orders are expertly packaged, prepared and shipped within one to two business days of ordering. We offer Free Shipping Worldwide. The typical delivery timeframe is 7-17 days. Depending on your location, you may receive items later or earlier. All orders are shipped with tracking number so you can track them every step of the way! Occasionally, packages may face delays beyond our control, such as customs or postal delays so please kindly understand.
Please note for the orders placed between 31st Jan and 4th Feb, the estimated delivery time is 7-21 business days due to high volume of orders this month. If you have any questions, please feel free to contact our customer support team, and they are standing by to answer your questions.
It's easy to check the status of your order! First, visit online Track My Order page and enter your order number and email to check your order status.
We always put our customers first and do our best to resolve any issues that our customers may experience with their online orders. Any products you return must be in the same condition you received them, in the original packaging and must be within 30 calendar days of the delivery date. For more assistance, you can check more from our refund policy page or you can send us an email. Our customer support representative will be more than happy to help you out.